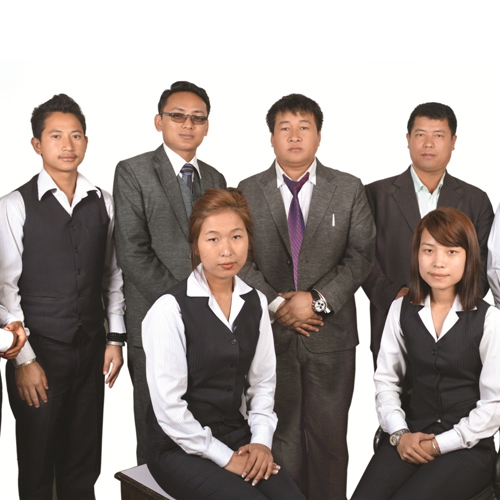 AJEETS MANAGEMENT & MANPOWER CONSULTANCY
is a dynamic manpower services company, and located at the heart of the Nepal's premier financial and commercial district. The company is duly licensed by the Nepal Government to engage in the overseas placement of skilled Nepal workers.
 Our multi-cultural management team enables 
AJEETS MANAGEMENT & MANPOWER CONSULTANCY
 to understand the needs of our international clients and provide them with the appropriate solutions to their recruitment needs. The Management Team consists of seasoned recruitment and HR professionals.
AJEETS MANAGEMENT & MANPOWER CONSULTANCY
 has been deploying skilled workers and professionals from diverse industries and settings to Europe, the Middle East, North America and Asia, living up to its commitment of providing the best in Nepalese expertise.
AJEETS MANAGEMENT & MANPOWER CONSULTANCY
 is a Recruitment Solutions Provider. We supply Nepalese skilled professionals to our clients across the globe, with focus on the following industries and disciplines:   
Telecommunications
Hospitality
Oil & Gas
Civil
Engineering
Factory & Manufacturing
Refinery & Petrochemical
Cement Plant
Marine & Shipyard
EPC Contracting
Doctors & Health Care
Medical Nursing
Retail & Departmental
Plastic & Fiber Plant
Security Service
Steel Plant
Marine & Offshore Drilling
Catering
Hotel & Fast Food Chains
Electrical, Mechanical & Instrumentation Engineering
Steel Sector
Finance & Banking
Media & Communication
Agricultural
Dairy Farm
Cruise Liner
Aluminum & Glass
Facility Management
Infrastructure & Construction
Through a proven and meticulous screening process, professional and in-depth candidate interviews a as well as our detailed knowledge and appreciation of our clients' business,
AJEETS MANAGEMENT & MANPOWER CONSULTANCY
Provides the Best in Naepalese Expertise……when and where our clients need it.
OUR CORPORATE PHILOSOPHY
The Best in Nepalese Expertise
The Nepal is rich not only in natural resources but also in its dynamic and talented workforce. The natural warmth of personality, caring demeanor, outstanding language ability, dedication and resourcefulness make the Naepalese the ideal candidate for any employer.
World-class communication skills and work ethic are key reasons why Naepalese workers are sought after internationally. Naepaleses have become a positive presence all over the world.
In the maritime industry the majority of shipping crews are Naepalese. Hundreds of thousands of Naepaleses work throughout the Middle East. Nurses, allied health care workers, computer programmers and other skilled professionals are in demand across key geographic markets such as Asia, Europe, and North America. In many hotels worldwide, travelers will encounter the smiling face of a Naepalese attending to their needs.
Talented, professional, courteous, and hard-working -
AJEETS MANAGEMENT & MANPOWER CONSULTANCY provide you the Best in Naepalese Expertise!
Quality and Professionalism
As an established recruitment company,
AJEETS MANAGEMENT & MANPOWER CONSULTANCY
has forged a mission statement and a set of corporate values that are the corner stone of our philosophy.
This guides us in achieving our goals and giving our clients and candidates the best service possible.
Our Mission
To bring the best in Naepalese expertise to our clients and in so doing, provide them with solutions to meet their recruitment needs.
To meet the goals and aspirations of our candidates and provide them with exceptional opportunities to work overseas with respected employers.
To provide true value for money to our clients and exceptional levels of client service.
To be fair and transparent in all our dealings with clients, candidates and colleagues.
Our Corporate Values
Teamwork
Professionalism
Quality
 Fairness
Competitiveness
Integrity
Resourcefulness
Our Edge
Professional multicultural management. We speak your language, thus facilitating the recruitment process.
Transparent and long term business partnerships to demonstrate our ongoing commitment to deliver the quality of service our clients require.
Close account management and attention to detail to ensure ongoing client satisfaction.
Thorough screening and recruitment processes to ensure that only the most suitably qualified candidates are presented to our clients.
Customized and tailored services to meet the specific, individual needs of customers.
Services we offers
Hospitality Recruitment Services
Oil & Gas Recruitment Service
Civil Recruitment Service
Engineering Recruitment Service
Factory & Manufacturing Recruitment
MEP Recruitment
Refinery & Petrochemical Recruitment Services
Cement Plant Recruitment Services
Marine & Shipyard Recruitment Services
EPC Contracting Recruitment Services
Doctors & Health Care Recruitment Services
Medical Nursing Recruitment Services
Retail & Departmental Recruitment Services
Plastic & Fiber Plant Recruitment Services
Security Service Recruitment Services
Steel Plant Recruitment Services
Marine & Offshore Drilling Recruitment Services
Cruise Liner Recruitment Services
Aluminum & Glass Recruitment Service
Facility Management Recruitment Services
Infrastructure & Construction Recruitment
Catering Recruitment Services
Hotel & Fast Food Chains Recruitment Services
Electrical, Mechanical & Instrumentation Engineering Recruitment
Steel Sector Recruitment
IT & Telecom Recruitment Services
Finance & Banking Recruitment Services
Media & Communication Recruitment Services
Agricultural Recruitment Service
Dairy Farm Recruitment Services